Getting Started
Introduction​
Music Tag Editor is a professional all-round tool for editing metadata of audio and video files. The concise and clear interactive method can help you modify metadata in batches efficiently and quickly. Supports batch renaming of files using metadata, and formatting and writing metadata from file names. You can also conveniently use it to download album art, lyrics, metadata and other information from the Internet (MusicBrainZ) to automatically complete the metadata. Easy to use, it is a good helper for musicians, DJs, bloggers and music lovers to process audio files.
Supported files and tags formats:
mp3 (all ID3 tag versions)
Windows Media (wma, asf and wmv files)
Apple iTunes aac (m4a, m4p, m4r and m4b) and mp4 and aiff files
ogg, flac, opus, speex (vorbis comment tags)
mpc, mp+, monkey's audio, wav pack, optim frog, true audio - APE tags, APEv2 tags
wav - ID3v2.3 tag in 'id3 ' RIFF chunk and LIST INFO chunk
dsf (DSD/Direct-Stream Digital) - ID3v2.3 tag
Getting Started​
Thanks for downloading Music Tag Editor(MTE), Let's take a few minutes to take a look at what MTE can do and how to make your Tag Editing work more comfortable and effectively.
Tips
Before you read the follow tutorials, Make sure that you have the latest version of Music Tag Editor installed on your mac.
Overview of the main interface​
There are 4 main sections in the main UI (It is framed in red in the image below):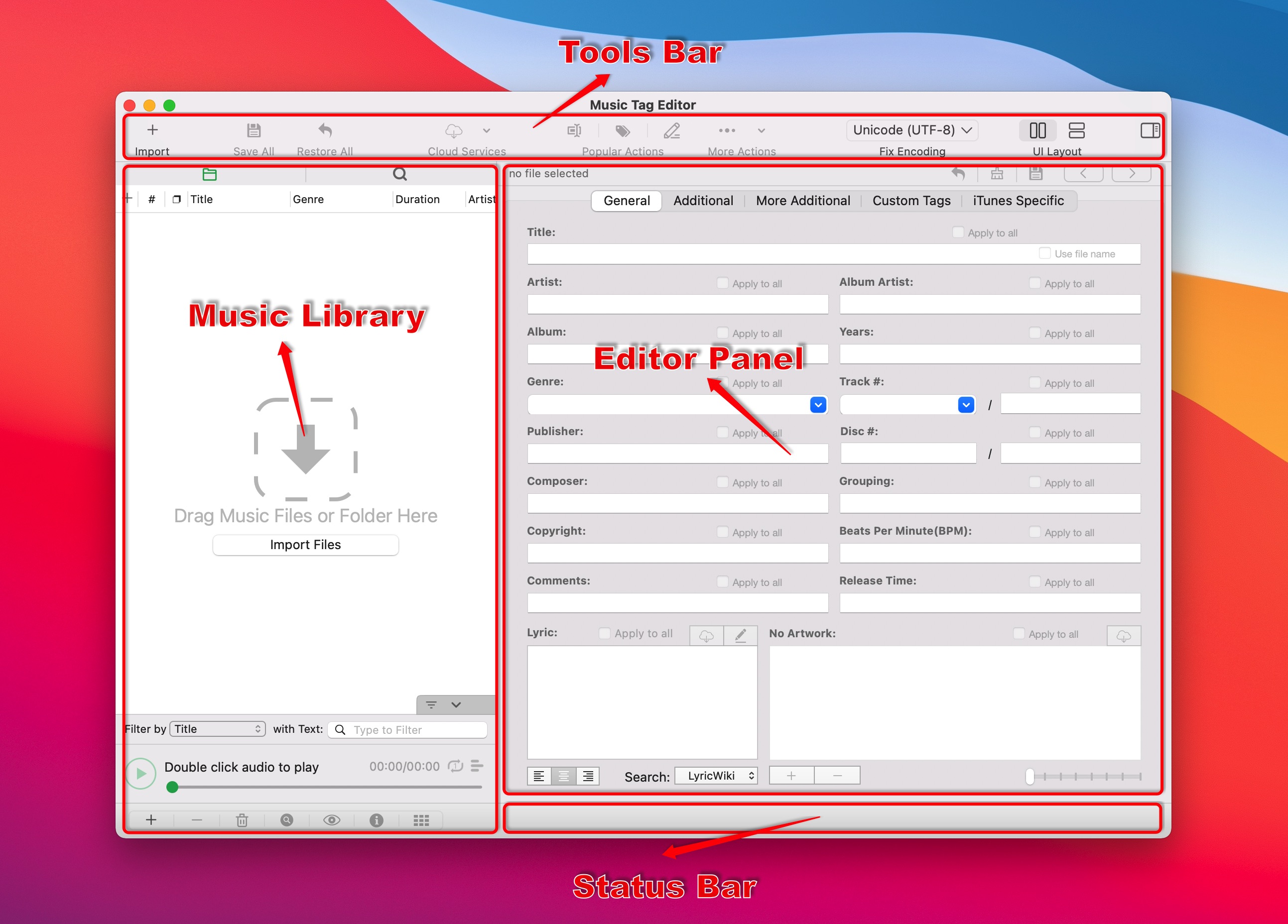 Instructions of each sections:​
| Section Type | Instruction |
| --- | --- |
| Tools bar | Contains commonly used functions, such as file adding and saving, cloud recognition, renaming files, ui layout, etc. You can also customize the function items of the toolbar |
| Music Library | The music manager of the app, you can perform Search or Filter operations on files in library,It's responsible for managing media files, the columns is fully customized, the file list can be filtered by keywords. Also, by the right click of particular media file, you can do almost everything through the menu. |
| Editor Panel | It's the main workspace to do your tag edit work. Almost every type of tag are supported. Even you can add some custom tags to media's metadata. We will later talk about how to do Batch Editing |
| Status Bar | Display status of the app or Notifications or Lyrics when playing music with lyric attached |
Main Features​
Once we get used to the basic operate logic of the app, We will use the following 8 app features to have a more in-depth understanding of what makes this app different, and help you make better use of this app to make it more effective:
The following tutorials will describe details of the 8 main features one by one, If you are intrested in one of them, feel free to jump to the destinated tutorial.